You know the deal. Every so often, I take a look at my podcast rotation and rank them out based on which podcast I would play first if I had a new episode available from each of them.
Here are the previous rankings. Now, let's find out where things stand on March 7th…
Honorable Mention: Judge John Hodgman, Doug Loves Movies, The Andy Daly Project
10. Topics – A recent addition to my rotation, I'm embarrassed that I'm just getting in on a podcast involving Michael Showalter and Michael Ian Black. Their faux-serious delivery keeps a smile perpetually on my face and the manageable run time (30-35 minutes) means the joke never overstays its welcome.
Recent Episode Of Note: Small Stuff with special guest Paul Rudd
9. This American Life – I know. This solidifies my choice in life to be a liberal, NPR-listening intellectual. Oh well.
Recent Episode Of Note: Dead Men Tell No Tales delves into the mysterious story about the Florida man killed by the FBI in the wake of the Boston Marathon bombing.
8. F This Movie! - The best episodes of this movie review/movie love podcast are the ones that spend almost as much time on tangents involving random movies they've seen this week as the one movie they're actually here to talk about.
Recent Episode Of Note: Darkman, the superhero movie that isn't a superhero movie but kinda is but kinda isn't.
7. Slate's Hang Up & Listen - I get so frustrated sometimes watching #HOTSPORTSTAKES dominate social media and sports columns each week. Everyone trots out the faux anger over anything and everything and we accept it (mostly) because we think that's what sports conversation are supposed to be. And then I listen to HU&L and get reminded that you can have common sense conversations about sports and that's SO much better.
Recent Episode Of Note: The Kain Mutiny Edition, a varied discussion about the NCAA tournament, Northwestern players' unionization and the killer contracts of Major League Baseball.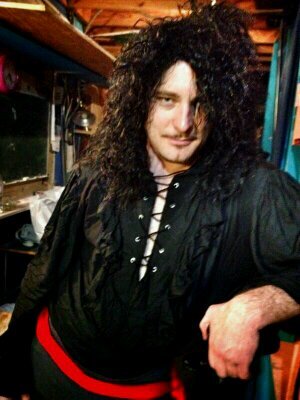 6. Comedy Bang Bang - I've been kinda down on CBB lately, mostly because I find it so hit and miss. But then everyone couple weeks I listen to an episode that reinvigorates my interest in the show and appreciation for how good Scott Aukerman is at keeping all the plates in the air.
Recent Episode Of Note: Live From SXSW 2014, Part I. Live episodes can really, really be hit or miss but as soon as James Adomian appears as the The Sheriff of Nottingham, this one goes to eleven. Adomian completely takes over the room, all the while staying in character and improvising as he goes. I was in awe listening to it.
5. Sklarbro County - The most consistent general comedy podcast in my rotation. I know what I'm getting when I tune in to The County and it rarely disappoints because the "human interest" stories they turn to for jumping-off points never disappoint.
Recent Episode Of Note: Sklarbro County 95. With guest Jonah Kerl, we get some fun old-school Expos stories before digging into stories about stolen ferries and explicit WalMart photos. And that's all before Steven Seagal stops by to explain how he's going to deal with Russia.
4. NPR Pop Culture Happy Hour - I make sure to download this onto my iPod before I leave the house every Friday. Listening to the PCHH crew discuss the week's pop culture ephemera is the perfect way to kick-off the weekend, especially when Glen Weldon is most displeased with the topic at hand.
Recent Episode Of Note: 'Divergent,' Getting Personal, And Jesse Thorn, a discussion that begins with the disappointment of Divergent, dovetails into a discussion the pop culture that you defend so vehemently that you get personally offended when people dislike it and then ends with a visit from Jesse Thorn.
3. The Cracked Podcast - At some point during the week, I usually end up compiling all of the interesting and/or insane facts I learn from all my podcasting for my wife to prove how smart I am and The Cracked Podcast is almost always the one that provides me with the most good stuff.
Recent Episode Of Note: Insane Coincidences That Actually Happened. This episode is basically the entire reason this podcast exists. A collection of things that you would assume are just conspiracy theories if they weren't actually true. And a discussion about why we believe in insane theories when the truth is already so complex.
2. The Flop House - I've had The Flop House at the top of the rankings for a while now. The Original Peaches are just that good, and they still are, but now that I'm completely caught up on the back catalog, it's a really long wait for each episode. Given my attention span, sometimes all it takes is a good-but-not-great episode to make my interest wan. Let the record show they're still No. 2, so it's not like they've dropped off THAT much.
Recent Episode Of Note: Gangster Squad. A great movie for the show, the trio works their magic to turn its absurdity into podcast gold.
1. HDTGM - As I mentioned above, live episodes are hit & miss. But when they hit, they REALLY hit. A great live episode is the best kind of comedy podcast. The energy of the room comes through the speakers. The jokes are funnier. The laughs are louder. As HDTGM transitions into a new era of less-episodes-but-more-live-shows, I can't wait to see what else is coming.
Recent Episode Of Note: No Holds Barred. The best podcast episode I've listened to in a long time.